Meet Griffin Kerstetter & Annie Yonas:
Recipients of The 2nd Elijah Straw Helping Hand Award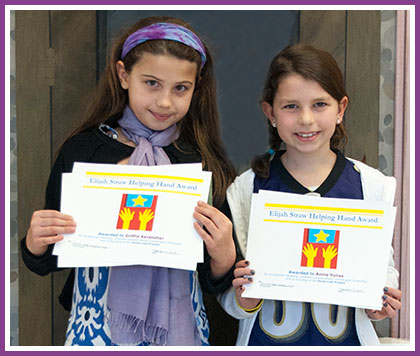 Griffin Kerstetter (l) & Annie Yonas (r) holding their award certificates and letters.
The Elijah Straw Memorial Fund and the entire Straw Family were honored to present O'Hara Elementary School 3rd graders Griffin Kerstetter and Annie Yonas with the second Elijah Straw Helping Hand Award for their amazing work in establishing Home Lost and homelostproject.org (see below). These exceptional young ladies received a certificate of merit, a Barnes & Noble gift card, a pizza party for their classroom, and most importantly, a chance to donate an amount equal to their gift cards to the local charity or organization of their choice.
From the award letter they received:
On behalf of the Elijah Straw Memorial Fund and the Straw Family, we proudly present to you, Annie Yonas and Griffin Kerstetter, the Elijah Straw Helping Hand Award. This award was specially created in our son's memory to celebrate and honor exceptional friendship, kindness towards others, and overall good citizenship, and we could not ask for two more deserving recipients. You and Griffin have shown a great deal of maturity and initiative, and you should be very proud of your accomplishments.

When Dr. Rowe forwarded your nomination to us, we were moved by your commitment to helping others. By creating Home Lost and homelostproject.org, you have not only exhibited empathy and concern for others less fortunate than you, but have shown that, without a doubt, each of us has the power to help, even in a small way. Mahatma Ghandi once said, "In a gentle way, you can shake the world." We hope that your actions will further inspire you and your classmates to make lasting and meaningful positive impacts on the lives of others, whether in your community, or beyond. You are a wonderful example of the Good in this world, and we sincerely hope that you continue your good works as you travel forward in life.
Update: Griffin and Annie decided to make their respective donations to Animal Friends and Community Human Services. Awesome job, ladies!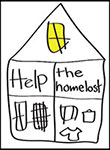 About Home Lost Project
Annie and Griffin founded Home Lost and homelostproject.org. Their mission is to help the homeless by making quilts out of donated t-shirts and in turn, donating these quilts to the homeless directly or via local aid agencies. In Annie's own words, from the website: "There are over 2,300 people in Pittsburgh who are homeless. Many of the homeless are families and children. We want to make sure that people know about this problem and that we all do something to help. The quilts are a gift that can keep them warm."
Originally inspired by a children's story about people walking the streets both day and night, Griffin and Annie showed tremendous maturity and initiative by enlisting the help of their parents and others in the community to make tangible efforts to aid and comfort those without homes. First, the girls' parents arranged a visit to the great people at Community Human Services, who in turn supervised a visit to the Wood Street Commons shelter. There, Griffin and Annie got to know two women who had lost their homes. In Griffin's words, again from their remarkable website: "We learned [ the women ] are really nice and kind. We talked about their favorite colors and foods. We learned that we have a lot in common."
This, the Straw family believes, is the very definition of empathy. Beautiful!
To get the full story about Annie and Griffin's extraordinary project, be sure to visit homelostproject.org, and be sure to donate some t-shirts! You can also volunteer to craft the quilts, and the girls also provide handy quilt-making instructions. Bravo!
More Photos of Annie and Griffin
Please click on any image to see a larger version in a new window.



L to R: Shawn Kerstetter, Jessica Burke, Griffin Kerstetter, Annie Yonas, Alison Yonas, Michael Yonas, and Jen and Tom Straw




L to R: Trevor Smith, & Jon Hoffman from Community Human Services, Griffin, Annie, and Jen and Tom Straw




O'Hara Principal Dr. Michael Rowe, Griffin, Annie, and Tom & Jen Straw




Griffin and Annie
Please consider donating to the Elijah Straw Memorial Fund using the link below:
[ top ]