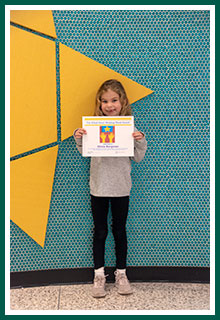 Congratulations to Olivia Bergman, O'Hara Elementary 1st Grader, for receiving the 26th Elijah Straw Helping Hand Award!
On behalf of the Elijah Straw Memorial Fund and the Straw Family, Jen and Tom Straw presented O'Hara Elementary 1st grader Olivia Bergman the Elijah Straw Helping Hand Award on Monday, March 11, 2019. Christian was nominated by two different people at O'Hara. The first, Ms. Lancz, had this to say about Olivia:
Olivia walks her brother, Bennett, to his kindergarten classroom, always remembering to say hi to teachers along the way. Also, she walks herself quietly to her accelerated classroom with Mrs. Hall. But the best part of all . . .